GS1 US University offers certificate courses and workshops to help you understand how to use the GS1 System of Standards to identify, capture, and share your products to help improve the accuracy, speed, and efficiency of your supply chain. With both classroom and online offerings, you can learn in the setting that best suits your needs.
After completing a GS1 US® certificate course, you will earn an important credential in the use of GS1 Standards—a GS1 US Badge.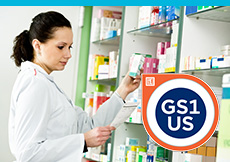 GS1 Standards for DSCSA Dispensers
Are you a retail, hospital, or chain pharmacy who is preparing to receive products and cases from suppliers who are using GS1 Standards to implement the DSCSA? Learn about the DSCSA requirements suppliers are implementing and how to prepare your systems and business processes for the DSCSA.
GS1 Standards Essentials
Just getting started with GS1 US and looking to gain a fast and thorough understanding of the GS1 System of Standards? Visit our Basic Education page to learn more about our most popular free and low-cost courses, all hosted on the GS1 US University Learning Management System (LMS).
Team Training
Interested in getting your organization trained on GS1 Standards? Our Enterprise Licensing Program allows unlimited access to GS1 US Online Certificate Courses to all of your employees via your own LMS to help ensure all internal teams learn the principles and use of GS1 Standards.
Earn a Badge - Your GS1 Standards Credential
When you successfully complete a GS1 US Certificate Course, you can earn an important credential in the use of GS1 Standards. You can also add this new skill to your online resume with a GS1 US Badge and share it via social media.
*For information about the rule, see the U.S. FDA Unique Device Identification System
**For information about the act, see the 2013 Drug Supply Chain Security Act
Disclaimer: GS1 US is the local GS1 Member Organization that supports implementation of the GS1 System in the United States. GS1 US employees are not representatives or agents of the U.S. FDA, and the content herein has not been reviewed, approved, or authorized by the U.S. FDA.
GS1 is a U.S. FDA-Accredited Issuing Agency for UDI, and GS1 Standards are authorized for use in implementing the requirements of the U.S. FDA UDI Rule.