Master the Basics of Unique Product Identification
If any part of your work involves creating, analyzing, or using product data in any way, you're most likely interacting with GS1 Standards. The GS1 Foundations certificate course offers education that will help you learn product identification standards that result in trusted data for your trading partners and consumers. Enroll in the GS1 Foundations Certificate Course if you want to:

Learn how to use the GS1 System of Standards for unique product and location identification
Gain a valuable perspective on the importance of standards-based product identification
Assign and manage unique products and packaging levels via Global Trade Item Numbers® (GTINs®) and barcodes
Be prepared to perform efficient item set-up, ensuring that it's done right the first time
Understand the most common barcodes as well as the Global Location Number (GLN) and how they're used.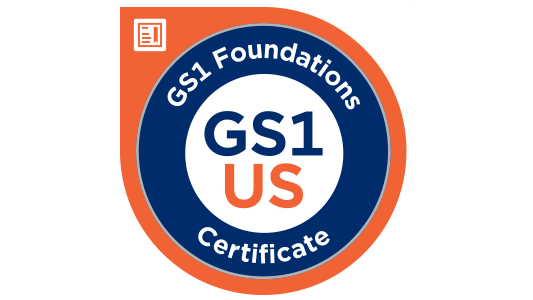 Traditional Classroom
Benefit from face-to-face interaction with instructors and classmates at our location or yours. When in person, the course is taught in one business day (9 AM to 5 PM).
Due to COVID-19 traditional classroom courses will not be offered until 2023
A New Highly Interactive Way to Learn Unique Product Identification
Professionals who manage the product lifecycle from creation through distribution and merchandising, including product management, supply chain operations, logistics, category management and shopper marketing.

Equipped with the knowledge of GS1 Foundations, you can:
Eliminate product returns resulting from inaccurate product data
Reduce barcode scanning errors at checkout that result in unsold product
Better manage product changes using proper GTIN® management
Improve supply chain visibility with proper usage of Application Identifiers (AIs) and GLNs
The GS1 Foundations Certificate Course includes the following topics:
Overview of GS1 Standards
How to Use Your Company Prefix
Introduction to GLNs
How to Create and Manage Your GTINs
GTIN Management Standard
How to Barcode Your Products
GS1 Application Identifiers (AIs)
Barcoding Beyond Point-of-Sale Scanning