What is Supply Chain Visibility?
Supply chain visibility is when you are better able to react to consumer demand, enable a safer supply chain, and provide the right quantities at the right time, to the right places. Through the adoption of GS1 Standards by uniquely identifying your products, you can help create a more efficient data exchange with all your trading partners, as well as your consumers.

The Benefits: Why is Supply Chain Visibility Important?
Supply chain visibility is important because it not only helps companies meet consumer demands, but it also helps improve and streamline communication between trading partners and offer real-time inventory data in a digital world. But none of that is possible without GS1 Standards.
Standards lay the foundation for a more visible supply chain, and in situations like recalls, time is of the essence. With GS1 Standards in place, affected items can be quickly removed with minimal impact. This level of visibility helps create greater efficiency and resilience as well as the ability to pivot when supply chain disruptions occur.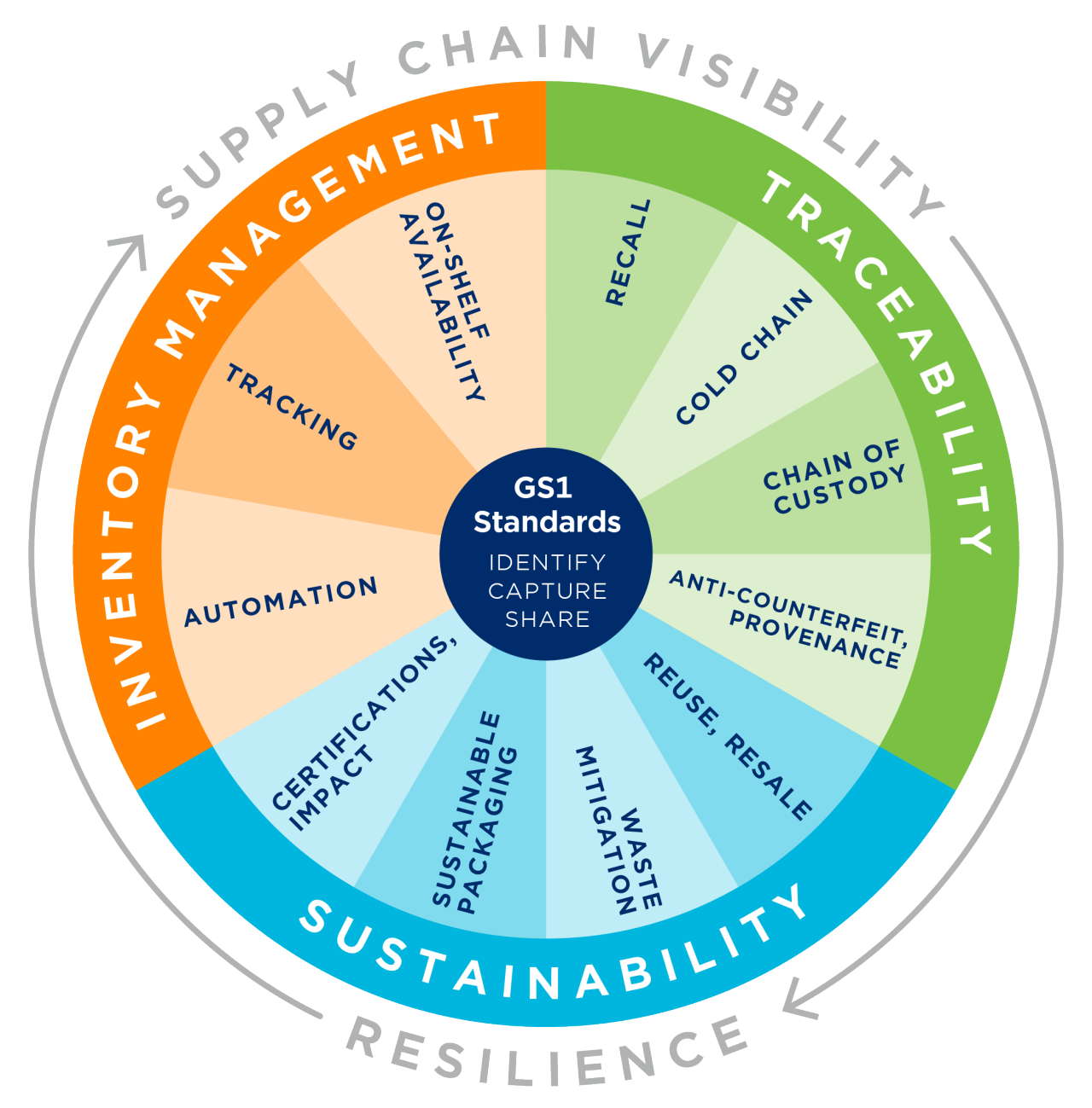 Traceability starts with the unique identification of products and locations. Here, you are identifying locations with Global Location Numbers (GLNs) and products with Global Trade Item Numbers (GTINs). At the item or case-level, you may be capturing information via a GS1 data carrier. By implementing standards-based traceability, you can better, more reliably track products through supply chains to help ensure consumer safety.

Ensuring that there are enough goods or materials to meet consumer/patient demand without creating overstock, or excess inventory, is the key to successful inventory management. It's critical to be able to track and plan for appropriate inventory levels throughout the supply chain process

How to Grow a More Visible Supply Chain
GS1 Standards serve as the foundation for a global visibility solution using a variety of data sharing tools and techniques. Whether you are a small business or a large enterprise moving products globally, best practices and opportunities to improve are available all along your business's level of maturity.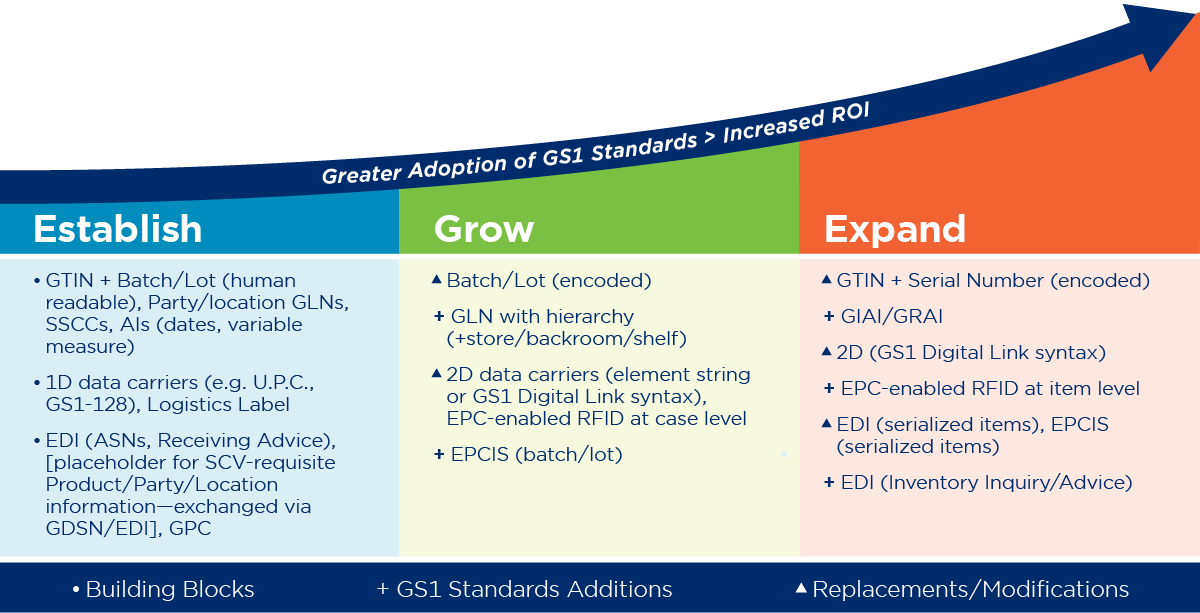 How to Expand Your Supply Chain Visibility
Recall Management: Quality and safety issues along the supply chain are bound to happen. When it impacts your product, effective recall management allows you to know precisely which product is impacted and where it is so you can communicate withdrawals.

Cold Chain: The ability to monitor temperature-sensitive items starts with accurately identifying products, locations, and shipments in conjunction with temperature sensors so proper temperature information can be shared with trading partners.
Fulfillment: With real-time customer requirements guiding commerce and overall satisfaction, your ability to fulfill a customer's purchase, regardless of the location of inventory, is critical.
On-Shelf Availability: How a consumer views your brand may hinge on your ability to see whether inventory levels or a product mix at a specific location are sufficient to demand. Make sure you're able to react and pivot accordingly with new technologies and innovations.
Resources to Improve Supply Chain Visibility
Whether you're establishing a new visibility program or looking to scale up, GS1 US provides the resources you need to support your efforts.

Supply Chain Leader Stories

Guidance Resources: Individual Standards Overviews
Implementation Guidelines: Use Case-Specific Guidance

Experts in supply chain visibility and GS1 Standards are here to help you along your journey. Advisory Services are available if you're looking for more hands-on guidance. Learn More
Join your peers and trading partners in a GS1 US Industry Initiative to help address challenges and drive change and innovation using GS1 Standards.
Help us move industry forward, together. When you join, you'll:

Gain insight into the challenges and opportunities at each "stop" along the supply chain.
Engage and network with peers and partners in a collaborative working environment.
Share, learn, and develop industry best practices for improving all things supply chain.

In order to participate, companies need to be a GS1 US member in good standing. Learn more about each initiative